Dandelion fritters are the bite-size taste of spring. Sweet or savory, they make a perfect appetizer or snack, and they're fun for kids to boot.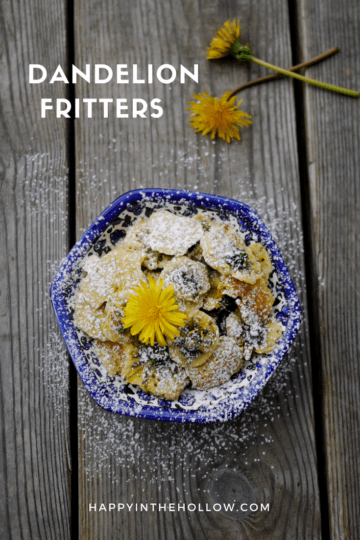 Can't wait to make the fritters? Jump right to the recipe.
Every May, seemingly overnight, our lawn is carpeted in dandelions. Spring is finally here in full force! And with it bees, butterflies, goldfinches and other animals that feast on the cheerful yellow flowers.
For me it usually also means that, yet again, I forgot to get out there early enough to harvest the young dandelion leaves before they get bitter.
I really need to set a calendar alarm for next year. My father-in-law used to be even more strategic: In the winter he'd carefully lay a wooden board on a dandelion-rich patch of lawn. In the spring the firstgreens would receive little sun and stay sweet and tender.
But it's OK, because we still have quite a bit of dandelion-foraging ahead of us this season.
There will be dandelion "coffee" made from roasted roots (keep an eye out for the recipe), experiments with forager Leda Meredith's recipe for dandelion beer, and of course the tasty dandelion fritters that are the subject of this post.
Cheerful as the dandelions may appear, to Andrew they signal the beginning of an incessant, season-long battle against their incursion into our flower beds and other places they're not invited. They really are persistent little plants. All it takes is a tiny piece of root for them to regrow. So rest assured that harvesting their flowers is not going to harm them in the least.
Dandelion fritters are the bite-size taste of spring.
Click To Tweet
Why eat dandelions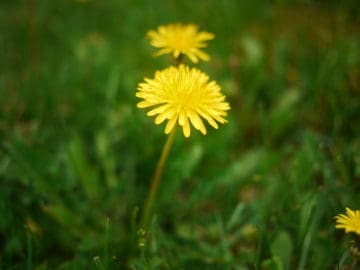 By now you're probably wondering, "why bother eating dandelion flowers"?
Well, for starters, they're delicious. To me they taste like their color: a sort of yellow, sunny honey with a hint of bitterness from the green bits.
That bitter edge is part of what is considered the dandelion's many health benefits. Little formal research exists on the medical use of dandelions (taraxacum officinale), but they've been employed since at least Roman times  and in traditional Chinese and Arabic medicine.
Puritans and other colonists brought the flowers with them from Europe to North America, where the dandelion rapidly spread across the continent.
Dandelions are high in vitamins A, K and C. Greens and roots are the parts most frequently used in medicine, for example as a digestive stimulant, a tonic during pregnancy, and a diuretic. In fact, one French name for dandelions is pissenlit or "wet the bed" – apparently a possible consequence of too much of a good thing. (The other name is "dent-de-lion," lion's tooth, which reflects the flower's many yellow "teeth" and is the basis of the English name. The German "Löwenzahn," by the way, has the same meaning.)
I also like dandelions because they are an easy, unintimidating introduction to foraging. Chances are good that you already recognize them, you'll find them easily nearby and you won't inadvertently poison yourself. It's even fun to get the kids involved in collecting them!
Dandelion fritters are an easy, unintimidating, and delicious introduction to foraging.
Click To Tweet
How to harvest dandelion flowers
If you're not certain what dandelions look like, here's a picture guide. It's very similar to the (also edible) catsear.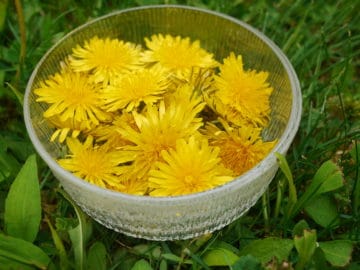 Make sure that the area where you pick your dandelions hasn't been sprayed with pesticides or other contaminants and that your pets haven't, um, been there.
Choose big, bright yellow blooms that haven't been nibbled on by animals.
Pinch the flowers off the stalk right right below the head and gently place them in your collection container.
How to prepare the dandelion flowers
Once you have enough flowers, remove the bracts – the little green "collar" at the base of the head. They're quite bitter.
Now you can either inspect the flowers one by one and blow off any little bugs, or you can wash them. To wash the flowers, rinse them under running water, or place the heads into a bowl of water with a little lemon juice and salt and push them down a few times.
Place the wet dandelions on paper towels or a cloth (that you don't mind potentially staining) to dry, petal side down, while you prepare the fritter batter. You have about half an hour before the flowers begin to wilt and close up. They'll look kind of sad and be much harder to work with.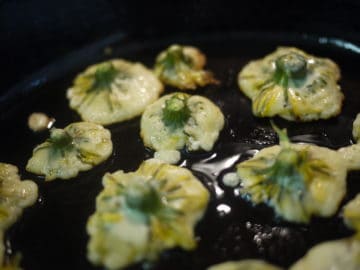 Recipe: Dandelion Fritters
Ingredients:
2 cups freshly picked and prepped dandelion flowers
1 cup flour
1 large egg
1 cup milk
pinch of salt (optional)
oil for frying (such as neutral coconut oil or light olive oil)
toppings (powdered sugar, maple syrup, honey; or a savory dipping sauce)
Whisk the flour, egg, milk and pinch of salt in a bowl until smooth.
Cover the bottom of a skillet with oil and heat on medium until it shimmers. (I like using this kind of skillet for extra crunchiness.)
Dip the flowers into the batter and place them into the oil, petal side first.
Fry for a couple of minutes until golden brown, then flip the fritters and brown for another minute.
Place the fritters on a paper towel to absorb excess oil and keep them warm in the oven as you proceed with the remaining flowers. Replenish the oil in the skillet as needed.
Notes:
You can replace part of the flour with fine cornmeal for some extra crunch.
I like the pure, delicate flavor of dandelion, so I top them with just a dusting of powdered sugar or a drizzle of a light honey. But try some sweet or savory variations by adding a hint of cinnamon, vanilla, thyme, curry powder, or other spices.
I love Tropical Traditions for their high-quality coconut oils (plus other non-GMO, all natural products). Their expeller-pressed pure coconut oil tastes neutral, i.e. not like coconut, and is my go-to for most frying purposes. If you decide to order from them, I'd appreciate if you could use my affiliate link, which will help to support this site. Tropical traditions frequently offers free ground shipping and sales. You'll receive their Virgin Coconut Oil book for free with your first order.
Enjoy!
Let me know in the comments below how you liked the fritters. What seasonings did you add?
Is the dandelion season over for the year? PIN this post for next year!
A note about foraging
If you'd like to learn more about identifying and cooking with wild edible plants, here are some great books I've worked with for the Northeast and the US:

P.S.: Bonus fun fact: Dandelions are being investigated as an alternative source of rubber ("taraxagum") for tires.